Withdraw eZ Cash from Commercial Bank ATM's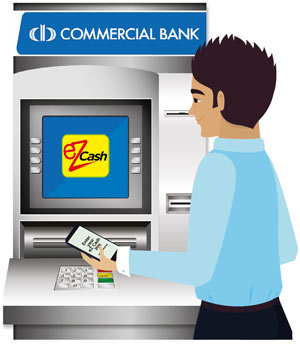 With this facility, eZ Cash account holders can withdraw money at their convenience from any Commercial Bank ATMs displaying the eZ Cash logo.
How to withdraw money from Commercial Bank ATM
Steps to withdraw eZ Cash through Commercial Bank ATMs
Visit any Commercial Bank ATM displaying the eZ Cash logo
Select Card less transactions
Select the preferred Language
Select eZ Cash
Enter the amount you wish to withdraw
Enter your eZ Cash Account No.
Enter the eZ Cash PIN on your mobile
Complete your Transaction
Withdrawal Limit
Any customer can withdraw only up to their given eZ Cash, Cash Out limit. For more information please refer Transaction Limits
Process
It is a Cardless process. However, you need to have the Mobile Phone (which is tagged to your eZ Cash Account) in order to authenticate the transaction and withdraw cash.
Commercial Bank ATMs
Applicable to all Dialog and Hutch customers.
This service is available at selected Commercial Bank ATMs which display the eZ Cash logo.
Safe and secure Transactions.
Withdraw a minimum of Rs.100 and a maximum of Rs.5,000 per transaction.
FAQ's
Can I withdraw money from any Commercial Bank ATM?
Yes, the service is available at any Commercial Bank ATM.
Does the eZ Cash Customer need to have a Commercial Bank Account to use the facility?
No the customer is only required to have a eZ Cash Account.
Is there a card involved in the process of Withdrawal at ATM?
No. this is a Card-less process. However you are required to have the Mobile Phone with the eZ Cash Account to receive the PIN request message.
What are Withdrawal Limits for Commercial Bank ATMs?
Transaction Limit per Withdrawal would be Rs 5,000 and the minimum withdrawal amount is 100 LKR
What should be done if the Customer needs to Withdraw eZ Cash more than the Per Transaction Limit of Rs 5000?
Customer will have to do the Transaction multiple times with a maximum per Transaction Value of Rs 5,000
What are the Charges Applicable for eZ Cash Withdrawals at Commercial Bank ATMs?
Existing eZ Cash Withdrawal Charges are applicable for Commercial ATM Withdrawals.
Are there any Additional Fee's charged by the Bank ATM?
No. There are no additional fees charged to eZ Cash Customers by the ATM or the Bank. Only charges applicable will be the eZ Cash Out fees as described above.
Service Charge
Standard eZ Cash charges are applicable. For more information please refer Transaction Charges
Terms & conditions apply
Call 7111 for more information